Description
The stories of 3 life warriors who survived the storm. Let's be motivated and inspired towards a fruitful and healthy life ahead.
In this book, the authors will share their stories, feelings, thoughts and experience in undergoing their situations. In situations like this, one perspective or attitude towards life may change. Of course, one lifestyle will also change drastically. Although in many cases the authors observed that many patients still continue with their bad lifestyle. And, in most cases, a person's attitude toward financial planning will also change.
Thus, these awesome authors will share to us their survival journey and highlight on the importance of taking care of our health and managing our finance wisely in our daily life. Let's get inspired and learn from these authors based on their personal experiences and true stories in terms of finance, health, family and many more!
A portion of the book sales will be donated to the MyLIFE Food Bank receivers to help them during the pandemic! Grab yours now today for RM50 only!
The price of this book is also inclusive of postage fee!  Don't miss out!
ABOUT THE AUTHORS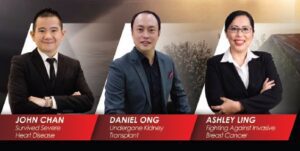 CHIEF AUTHOR: JOHN CHAN NINYII FAR CMSRL BEng RFP SRFP MBA PJM
John Chan is currently the Founder and CEO of YES Financial Sdn Bhd, an Approved Financial Adviser of Bank Negara and Capital Markets Services Licensed Firm of Securities Commission Malaysia. In July 2021, he was elected as Deputy President of Association of Financial Advisers Malaysia for the 2021-2023 term. He won the JCI Ten Outstanding Young Malaysians Award (Top 30) twice in 2014 and 2018. He is the author of an entrepreneurship motivation book 'FIRE YOUR BOSS'. Among his awards as a young entrepreneur were the 2016 100 Most Influential Young Entrepreneur Award (MIYE) and 2016 FMA Remarkable Entrepreneur Award.
He has been interviewed on Astro 304 in the 'Young Entrepreneur Story Series', as the main figure in Mandarin Money Compass 《精明理财》, in ShangHai Entrepreneurs Elite Talks of Fame '商海名人访', and other publications including Financial 1st, English Money Compass etc. He writes financial planning articles for magazines and newspapers. He also holds the professional qualifications of a Registered Financial Planner (RFP), Shariah Registered Financial Planner (SRFP), and the academic qualifications of a Master in Business Administration (MBA) and a Bachelor of Engineering (Mechanical). He was conferred the Pingat Jasa Masyarakat from the Governor of Penang for his contributions. He is also a Malaysian Financial Planning Council Certified Lecturer and Examiner, and a Human Resource Development Fund (HRDF) Certified Trainer.
In 2015, John was diagnosed with Ischaemic Heart Disease, with a triple vessel blockage of 99%, 85% and 75%. He underwent an angioplasty with 4 stents. As a father of three children, he realized that he needed to live a healthy lifestyle. Thus, with his determination in changing his lifestyle, he managed to reduce his body weight from 90kg to 68kg. He has great stamina now with a fit outlook.
CO-AUTHOR: DANIEL ONG
Ong Choo Keat, a sinner saved by God through faith, is a blessed husband of the world's most beautiful wife and a proud father of three lovely children. He graduated with a Bachelor of Electrical Engineering from University Technology of Malaysia in 1999. Right after his graduation, he joined one of the S&P 500 semiconductor firms as a Product Engineer in Bayan Lepas, Penang. He has been with the firm for close to 20 years and was gradually promoted to a manager and eventually as a Product Chief Engineer.
He knew about his medical condition which would slowly deteriorate over the first few years after his professional career started. Knowing that he is too late to secure any medical insurance for himself and his family for the stormy days ahead, he then started to look into ways to insure his future medical bill himself and for his family's financial security. His feeling of preparing for financial security got more intense when his daughter was born. Holding a pure and lovely baby girl in his hands, he realized that he needed to find a faster way to achieve what he wanted: to prepare his family before the coming of the storm. Living in desperation for about 15 years, instead of giving way to what life had installed for him, he bravely chose to face the challenge and took up full responsibility as a husband and a father. He vowed to make sure his family would be secure and ready for "judgment day".
He seldom talked about what he had gone through with folks around him but he now decided to tell his story, aiming to encourage folks who are suffering the same fate as him, not to give up life easily. Instead, remember that for the sake of the person you love, be courageous to take full responsibility and take action like a man.
CO-AUTHOR: ASHLEY LING FAR CMSRL RFP Dip IT
Ashley Ling is a Financial Advisor with YES Financial Sdn Bhd. Prior to becoming a Financial Advisor she was in the insurance industry for 15 years. She holds a professional qualification of Registered Financial Planner RFP and a Diploma in Information Technology. She was under the mentorship and tutelage of Dr Sanjay Tolani, a Dubai based top 50 Financial Advisor in the world and Mr Eric Feng, a Singapore based international speaker, motivator and sales strategist. She is also under the life mentorship and coaching over the last 15 years with her immediate leader Mr Low Han Hwa, who is also a trainer of leadership and international speaker especially in the Southeast Asia insurance industry.
She said, "I joined the insurance industry because it can offer me career flexibility so that I can spend more time with my family, having financial freedom and live a healthy and balanced life". However, in spite of what she had achieved and her effort to stay healthy, she could not escape from a life-threatening disease that befell her in 2015. She said, "How wrong I was when I realized that the disease does not choose between those working in the insurance industry and those in a hectic and stressful corporate working environment". She continued, "The disease is blind to all this and it does not say to you, oh! I will not inflict you since you are living a healthy lifestyle". Thus, accident and sickness may happen to anybody, anytime and anywhere. The disease does not see your race, colour, your religion or the type of work you do.
Ashley was initially diagnosed with a suspected cancer of the thyroid and she was subsequently diagnosed with a Stage 3A breast cancer nine years after her thyroid disease. She is a mother of two school going children and she draws her inspiration from them to strive to live a healthy life. Today she runs a minimum of 10km per session thrice weekly and is an occasional participant in running events in Kuala Lumpur.
INTRODUCTION
Many people, especially in Asia, rarely do a full medical check-up. When asked, the reason is simple. Many of them are scared to face the reality of the doctors' comments. Listening to the doctor, for mild cases it means that you may have to sacrifice some lifestyles that you are used to in order to accommodate a healthier way of living.
As the Chinese proverb says, '不知者无罪', a person who is not informed, is not committing a 'sin' because they don't know about their health situation. But they are trying to run away from reality. In some cases, the outcome of the medical check-up may mean a death penalty to them.
For those who do their regular full medical check-up, they may think that having a full blood study with an X-ray may be considered adequate. However, it is sad to say that you often hear that people suddenly pass away, although they just passed their routine 'full' medical check-up. These situations may alarm the public unduly regarding medical check- ups.
The reason we wrote this book is to share our testimonial of surviving dread disease to the public. Dread diseases are not so scary as you may think. Thus, we urge that the public should make it their routine to do a full medical test and pay attention to any new technology for screening or early detection of any dread disease. We should face the reality that every one of us is made of dust and will return to dust sooner or later. But our habits and decisions today may pro-long our lifespan. Early detection of any disease will earn us time to battle the disease, and you may be surprised that you may still have a long life after that.
Former Prime Minister of Malaysia, Tun Dr Mahathir Mohamed is still fit even at his advanced age. He formed a new party and joined the Opposition coalition, and won the general election to form a new government against all odds. Tun Dr Mahathir has undergone coronary bypass surgery twice, even at the age when such operations can be life threatening. Singapore's Prime Minister, Lee Hsien Long is also a former cancer patient, but he is still able to manage Singapore till now. You may think that they are political celebrities and feel that they are far above us in social status. But with this book, us three would like to share our experiences to you as normal people.
Being inspired by the humanitarian mission to promote healthy living, motivation and rehabilitation, we, as John, Daniel, and Ashley have come together to write this book as our social responsibility to bless the community. Almighty God is kind to us, that we have survived the dread disease turmoil and came out healthy.
I (John) have survived Ischaemic Heart Disease with severe blockage of 3 coronary arteries, at 99%, 85%, and 75%. Daniel survived total renal failure with a kidney transplant from his wife. Ashley survived stage 3 breast cancer. Touching on insurance and finance, John and Ashley bought adequate critical illness insurance and medical insurance. Hence, while they were diagnosed with dread diseases, their medical fees and family living expenses were well taken care of. But the situation for Daniel was totally different. Since young, partly due to Daniel's mother's misconception of life insurance, his coverage was very minimal. Thus, he was badly underinsured to sustain his family unit. He had to figure out ways to be 'self-insured'.
Currently, I run a Licensed Financial Adviser Firm as the CEO, while Ashley is a licensed financial planner and financial adviser in the same company. Daniel was a Chief Engineer in the Product Development Department of Intel Malaysia, and is now retired, enjoying a financially free life. All three of them are outstanding in their career and active in the community even after their brush with death. Thus, there is nothing to be scare of being a dread disease patient. Early detection and effective treatment saves lives and you still can enjoy a fruitful life thereafter.
In this book, we will share our stories, our feelings, our thoughts and our experience in undergoing our situation. In situations like this, one perspective or attitude towards life may change. Of course, our lifestyle will change drastically. (Although in many cases we observed that many patients still continue with their bad lifestyle). And, in most cases, a person's attitude toward financial planning will also change. As we understand it, we are not superhuman. Thus, we need to be more cautious upon our health and finance. This doesn't mean that healthy people who do not suffer from dread disease do not need to take care of their health, taking life for granted and be careless in their finances. No matter who you are, in our opinion you should be taking care of your health and finances. As we only live once, we need a healthy body and money to live. If we don't live, there are still are family members, spouse and children who depend on us. So, do the responsible thing!