University Entrepreneurship Challenge 2022
UNIEC COMPETITIONS SUBMISSIONS DEADLINE
1. Business Coach Advisory Session 14/5/2022, Saturday
Days
Hours
Minutes
Seconds
2. Competition 1 -Business Plan Presentation
• Submission Dateline for PPT : 21/6/2022- Tuesday
Days
Hours
Minutes
Seconds
3. Competition 1 -Business Plan Presentation
• Presentation :25/6/2022, Saturday
Days
Hours
Minutes
Seconds
4. Website presentation 1
Submission Dateline : 3/7/2022- Sunday
Days
Hours
Minutes
Seconds
5. Competition 3.1 -Social Media Presentation 1
16/7/2022- Saturday, 10am
Days
Hours
Minutes
Seconds
6. Competition 3.2 – Social Media Presentation 2
23/7/2022- Saturday, 10am
Days
Hours
Minutes
Seconds
7. Competition 4 – Digital Fair
4/8/2022- 6/8/2022 Friday-Sunday
Days
Hours
Minutes
Seconds
8. Competition 5 -Offline retail preparation
12/8/2022 – 14/8/2022 Friday-Sunday
Days
Hours
Minutes
Seconds
9. Competition 6 – Team Spirit (Leadership, partnership and etc)
20/8/2022- Saturday
Days
Hours
Minutes
Seconds
The Uni Entrepreneurship Challenge (UNIEC) is a platform that provides encouraging opportunities for university and college students to practise and develop their entrepreneurial skills, build/test their innovative ideas, access funding and gain the support from the financial industry and entrepreneurial  experts.
The UNIEC helps to foster an interactive session among the communities of tertiary students, to unleash their inner entrepreneur and at the same time, guiding them to prepare for real-world business challenges.
Undergraduate students from any local public and private institutions of higher education with a solid business idea, concept, product and with/without an existing business are invited to participate in the activities of this Young Entrepreneurship Challenge. The activities that are specially designed for them will assist them to  explore their potentials, entrepreneurial spirit and guide them to obtain a more real and practical experience as young entrepreneurs.
Navigating and Unleashing The Potentials of Young, Aspiring Entrepreneurs
The main objective of the competition is to expose undergraduates in real entrepreneurship journey and guide them in developing their entrepreneurial skills and experience.
The competition is open to selected universities and business schools. Each university can send a maximum of 3 teams to participate.
All student teams will go through 15 weekend activities with the business coaches and business entrepreneurs' advisors.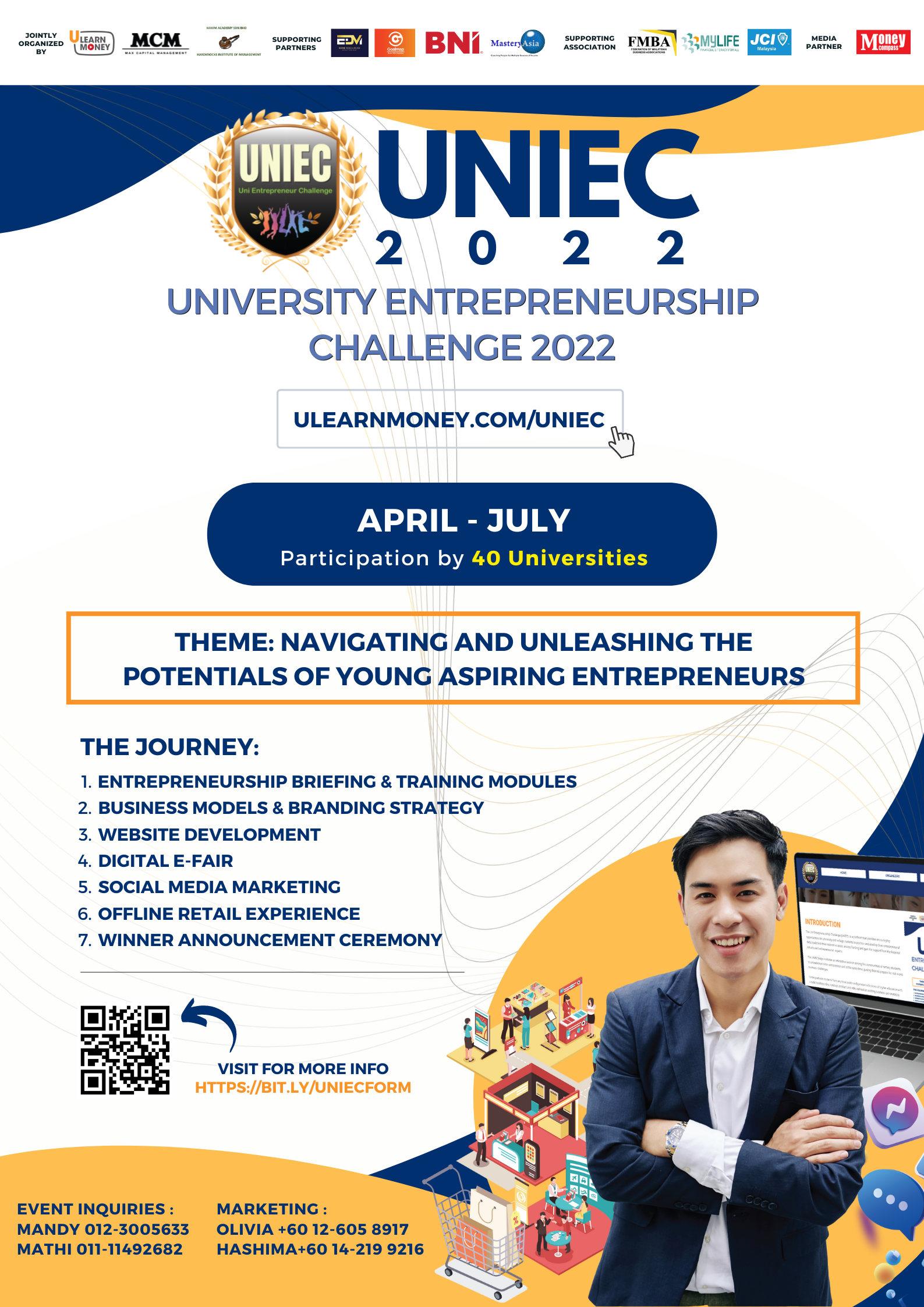 Business coaches that have great expertise in online and offline retail business and marketing, as well as numerous skills in developing business models, business plans, branding development, website, digital marketing, social media promotion and retail marketing.
INTRODUCTION TO UNIEC 2022