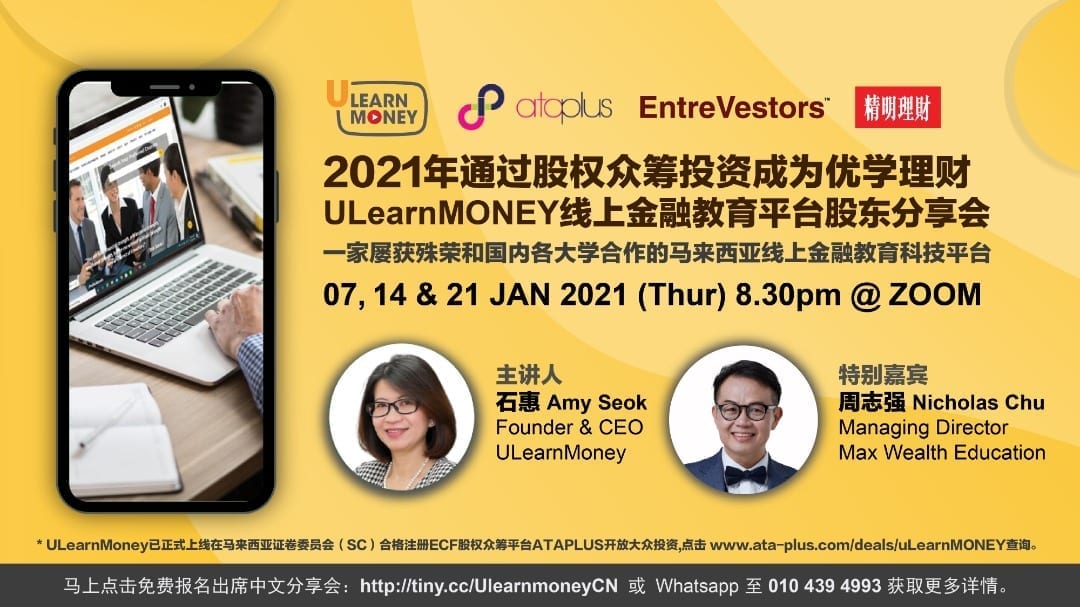 An Exclusive Invitation to uLearnMONEY ECF Presentation, 14th January 2021, 8:30pm
Hi there everyone! ?
uLearnMONEY would like to invite you all to attend to An Exclusive Invitation on ULM ECF Presentation.
Do you want to be part of the EDU-TECH business?
✅ 1st position in Google Search Ranking as financial literacy online education in Malaysia
✅ Has signed up thousands of learners online
✅ Has established many business partnerships with Universities, financial & education institutions, big corporates & government agencies
Let's get to know more about uLearnMONEY from these 2 Key Speakers!
Speaker(s) :
1) Amy Seok, Founder & CEO of uLearnMONEY
2) Nicholas Chu, Managing Director, Max Wealth Education
Date: 14th January 2021
Time: 8.30pm-9.30pm (Join room: 8.15pm)
Language: Mandarin
Registration Link: http://tiny.cc/UlearnmoneyCN
Don't miss any opportunity to learn from the industry experts!
See you in our webinar and wishing you a very wonderful day ahead. Cheers ☺️