4 Reasons Why You Should Save And Invest During A Pandemic
Many people nowadays spend their money in buying necessities and save more amidst this Covid-19 pandemic, while some may think that investing is way too difficult for them.
With the uncertainty of the financial future, we will be likely to save more rather than investing. Nevertheless, if we are able to put aside some extra money, should we invest it? Let's have a look at these important reasons why we should start saving and investing, despite the pandemic havoc.
1. You will tend to make basics budget and spend your money wisely
It is very crucial for us to avoid reckless spending during the pandemic. With the drive to start saving and investing, we are likely to manage our money properly. We can calculate our essentials budget to ensure that we have enough money to cover those major costs such as electricity and water bills, mortgage and others. If we don't do this, we will end up in even more trouble not only with financial matters but other life challenges as well.
2. You will be motivated to build a stash of emergency, saving and investment funds
It can be said that saving money can provide us a buffer for our hard times, regardless of any situations. After we set aside a proper amount for the necessities, we need to reconsider how much amount that we need to allocate especially for savings and emergency funds. However, if we are able to stock with three to eight months' of living expenses, we can start thinking to invest somewhere. This is because in the long run, the investments can also assist us in the recovery of this pandemic situation.
3. You are able to allot your time at home to learn how and where to save and invest
Being stuck at home may leave us with more time at home to do our research and learn about saving and investing tips. We can either enroll in an online financial course or read books on investing tips from the experts. For instance, uLearnMONEY can assist and provide us great opportunities so that we can learn the investment strategies and money skills at affordable and awesome prices through the following related courses:
a) ENHANCE your money skills with Mr Nicholas Chu, CFP, A five-day financial management online course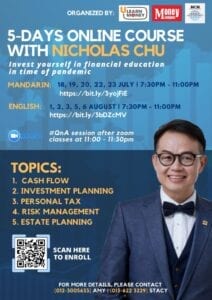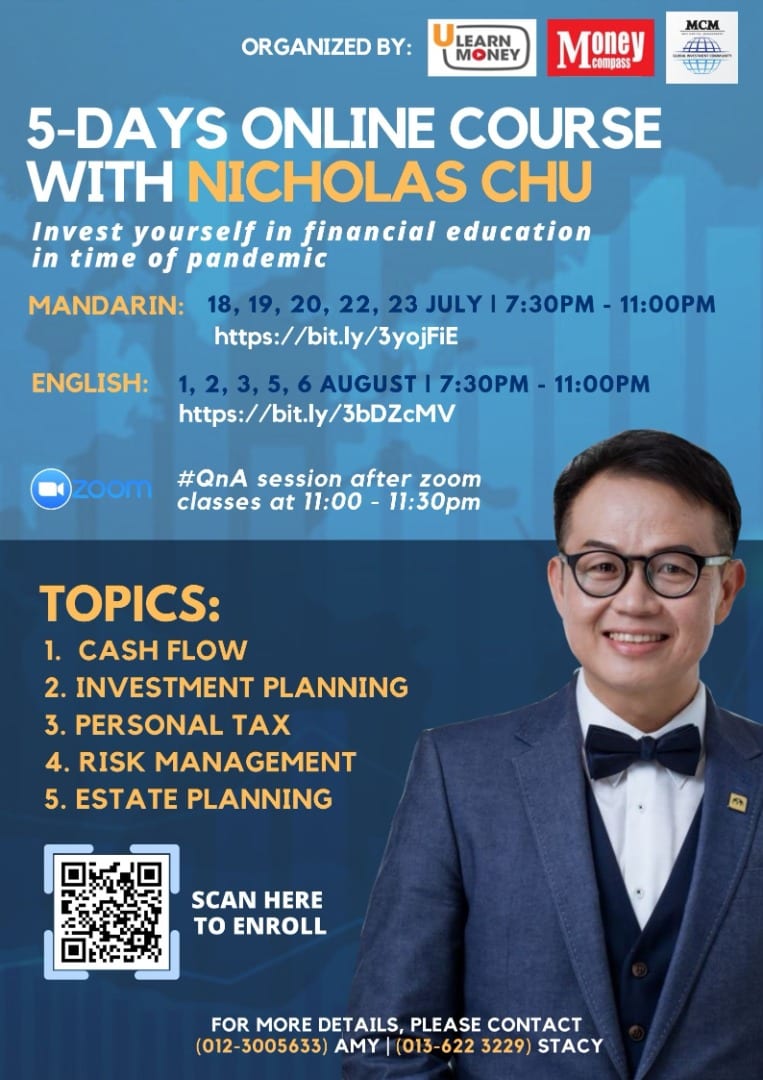 Under the current pandemic situation, we must learn to manage our finance wisely!
????This 5-day course will include:
????Cash Flow management 1/8/2021
????Investment planning 2/8/2021
????Personal tax 3/8/2021
????Risk Management 5/8/2021
???? Estate Planning 6/8/2021
⏰Class time: 7:30pm-11:00pm
Click HERE to enroll or find out more about these online classes!
b) MASTER and GROW your money via Money Master Program by Mr Azizi Ali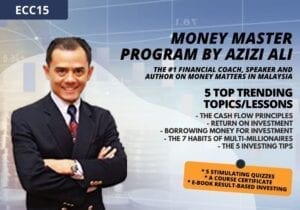 Learn and enhance your knowledge about investments and money tips with Mr Azizi Ali effectively through these 5 Top Financial Trending Topics!
The Cash Flow Principles
Return on Investment
Borrowing Money for Investment
The 7 Habits of Multi-millionaires
The 5 Investing Tips
GET the must-have skills on how to become a money master from him who has vast experiences for more than 20 years of experience in money matters as a financial coach, a speaker and an author! Click HERE to find out more and enroll in this course.
c) ACCELERATED Profit From Crisis by Mr Ka Hoe, Licensed Financial Planner & Founder of J Advisory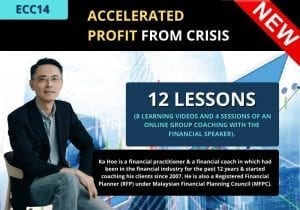 This course comprises of 12 Lessons (8 learning videos and 4 sessions of an online group coaching with the financial speaker). Mr Ka Hoe is a financial practitioner & a financial coach in which had been in the financial industry for the past 12 years & started coaching his clients since 2007. He is also a Registered Financial Planner (RFP) under Malaysian Financial Planning Council (MFPC). Click HERE to find out more and enroll in this course.
d) IMPROVE your knowledge on How to Enhance Your Entrepreneurship and Investment Opportunities by Adj. Prof. Maxshangkar, the Founder and Group CEO of Max Capital Management Holding Ltd. (MCM)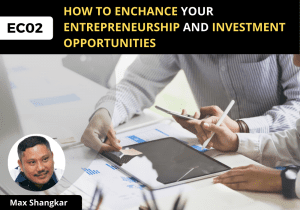 Mr Maxshangkar can guide the entrepreneurs on their investment journey through the following topics:
How to Pitch Your Ideas to Investors
How to Spot the Right Deal to Invest! How to Make Big Money with Small Capital
The Success of Entrepreneur's Pattern
Begin the Right Path to Achieve Success In Life
Click HERE to find out more and enroll in this course.
And not to forget, let's check out this latest book from Max Capital Management (MCM)!
e) GET STARTED investing and LEARN the INVESTMENT STRATEGIES for global real estate and businesses effectively with this best-selling book by Adj. Prof. Ts. Maxshangkar
In this second edition of MCM book, you will envelop beyond global real estate perspective top with global businesses and interactive strategies that one of the strategies was being nominated in the Edison Award. In addition, you will learn:
✅ More than 25 curated topics for different types of investing purposes and needs.
✅ Discard many potential investments that may perform poorly overtime or that are not right for the investment goals you are looking to achieve.
Click HERE to find out more about this book.
f) And also enhance your financial knowledge by reading and getting Mr Azizi Ali's various books on investment tips, Bitcoin, Get into Gold and many more. Do click HERE to grab yours!
4. You can have a better hope to secure your financial future
Other main reason that it is a good idea to start saving and investing in a pandemic is actually to gain a better hope for a bright future. We all have different goals in life and our financial goals may differ based on our needs and lifestyle. Nevertheless, we do need to ensure that we have a steady flow of income and enough savings kept aside for our needs before we decide to start investing. If you are among those who have sufficient savings, the key is to always do research on any investment options and learn the effective strategies to help you prepare and attain a financial breakthrough amidst these uncertain times. Just as the saying goes, "Never lose hope. Storms make people stronger and never last forever."― Roy T. Bennett
Want to learn and enhance your financial knowledge on saving and investment tips and strategies? Let's visit https://smeefair.com.my/ and participate in Save & Invest 2021, Financial Industry Career E-Fair from  27th to 31st of July 2021!
There are many activities for you to participate and gain knowledge such as through webinars on myriad trending topics, various e-booths from the financial institutions, agencies, participating universities, special features and many more for you to explore! Check out all of these meaningful activities while staying at home via this website, https://smeefair.com.my/save-invest-2021/ .
Do ENSURE to VISIT and EXPLORE the e-booths of the exhibitors and GAIN your Touch N' Go Credit and Points! Don't miss this out! =) Stay safe and take care everyone!